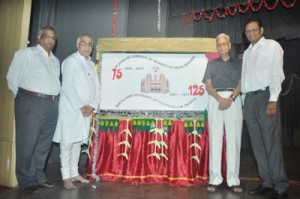 Bharatiya Vidya Bhavan celebrated its platinum jubilee and 125th birth year of Bhavan's founder Kulapati K. M. Munshi on Nov.7.
On the occasion K. V. Krishnan, GM, IOB unveiled the twin celebration logo.
Present were K. N. Ramaswamy, Director of BVB and P. N. Santhanagopal, Joint Director of BVB, Mumbai.
This was followed by a special violin jugalbandhi by Dr. M. Lalitha and M. Nandini.
Special programs were organised on Nov.8 and 9 at the Bhavan's premises.