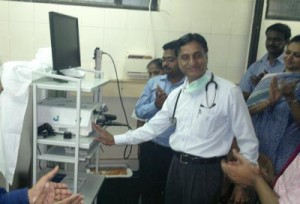 Billroth Hospital, R.A Puram has opened a new video Bronchoscope at its premise on November 15.
Dr. K.Raghavan, senior Physician inaugurated the equipment. Present for the inauguration were Dr.U.V.Ramakrishnan, Senior Consultant Chest Physician, Dr.Rajesh Jegannathan M.D., Dr.Kalpana C.E.O., Dr.Sridhar, Specialist in Asthma Management, Dr.R.Vijayakumar, Senior Nephrologist and other Senior Physicians and Surgeons.
Dr. Mohan Venkaraman, Pulmonologist made a presentation on how this bronchoscope works. He also explained the diagnosing procedures in lung cancer, infections involving and in the day-to-day management of patients in the Intensive Care Unit.
The hospital can be reached at 2464 1111.