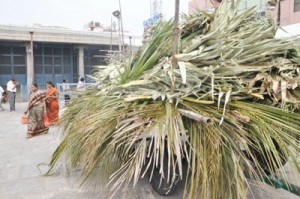 Mylapore is getting ready to celebrate Karthigai Deepam. The fest at Sri Kapali Temple will be formally celebrated on Wednesday, Nov.28 evening, said temple managers.
The temple campus will be lit up with earthen oil lamps. Srikanth and his team of volunteers will also place thousand plus lamps all over the temple tank steps and light them at dusk on Wednesday.
Hawkers have begun selling simple earthen lamps in the temple zone and outside.
<< Take a great deepam photo and mail to us. We will use it here! With your name >>