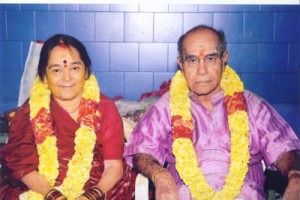 The sadabhishekam of A. V. Jayaram Iyer was celebrated at Kalyana Nagar Association on Nov.11. His wife is Saroja Jayaram.
Present for the event was Dr. V. L. Dutt, Chairman of K. C. P. Ltd., L. Sabharatinam, Chairman, Kartik Fine Arts, Dr. Nalli Kuppuswami Chettiar, actors S. V. Shekar and Kathadi Ramamurthi.
Jayaram is a resident of Mylapore since 1945. He studied at P. S. High School, Vivekananda College and Pachaiappa College.
'Cho' Ramaswamy was my classmate in school, he says.
"I wanted to become a chartered accountant and worked under V. Ramakrishnan. Slowly, after many years of service I became a financial officer," says Jayaram.
He retired as Director of Cardio Medical Trust located in Mount Road.
He was born in a village in Tanjore near Thiruvarur and he says though he learnt Carnatic music he never performed.
"It was my interest in arts that led me to start Kartik Fine Arts," he says.
He has been the Vice President of Kartik Fine Arts, a wellknown sabha for 38 years.
He was also a member of the Film Censor Board and a local film society, a  member of Delhi Kumar's drama troupe 25 years ago.
He is married to Saroja and has four children – J. Nandakumar, Kalpalatha Kumar, Shobana Natarajan and Jayanthi Ravishenkar.
The secret for my healthy lifestyle is that I go for regular walks in the morning and evening and I have a control in my food diet, says Jayaram.
Jayaram is a resident of Chaitanya Nest Apts., H – 43, Ratna Nagar, off Cenatoph Road and can be reached at 2435 2666.