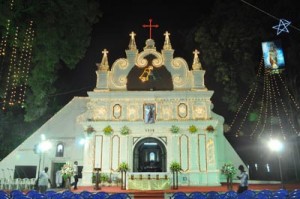 Churches in the neighbourhood became the centre of Christmas celebrations late on Monday night as they came alive with illuminations. buntings and religious services.
Deep in the heart of Luz, the ancient Our Lady Of  Light Church was bathed in a soft blue light, showing off its Portuguese facade. Buntings, a Christmas tree and illuminations all over greeted people as they made it here for the first Christmas eve Holy Mass at about 9 p.m. (photo on left). More Masses followed that night and the next day.
Traffic began to slow down and crawl as people began to head to the St. Thomas Cathedral in San Thome on the seaside for Holy Masses. The English Mass began at about 9.30 pm with over six priests celebrating it at the open air stage and campus, outside the church.
Dozens of floodlights and small illuminations on the walls, trees and fringes. At the far end some brands like Nilgiris set up stalls to sell cakes and goodies.
Over 2000 people attended the night Mass in English and when that was over, pieces of cake distributed and the Tamil speaking congregation came in, over 2000 people took their seats for the Mass that ended at midnight.
Down this main road, the churches of St Thomas English and St. Thomas Tamil were also grandly illuminated for services on Christmas day.
Further down in R A Puram, the church of St. Lazarus was packed with the congregation for the late night Mass.
Traffic was orderly and at night there were few signs of a Christmas celebration.
<< SHARE YOUR X'MAS PHOTOS – we will use them here>>