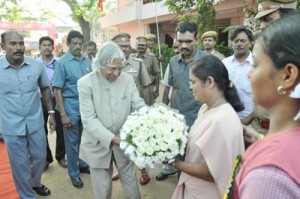 Dr. A. P. J. Abdul Kalam, former President of India visited St. Raphaels Girls School and interacted with the students. This was a great surprise for the school which is in its centenary year.
Over 100 students had gathered for this event. The school's management had also invited a few students from neighbouring schools.
There was heavy security all around – the dog squad, bomb squad and the police were on their toes.
Kalam arrived at 3.30 p.m. The school's band welcomed him. The Headmistress presented him with a flower bouquet.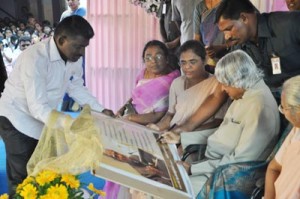 There was a all-faith prayer meet followed by Headmistress Ranjithan's welcome speech.
A member of the Parents-Teachers Association presented a painting and the former President signed on it. The painting was then presented to the school.
When Abdul Kalam stood on the dais there was a loud cheer from the students. He congratulated the students and the school management on the milestone.
Typical of him, he launched into a informal speech.
He made the students take pledges on studying, how to overcome challenges and setting an aim in life.
He also told the students the need to start their own mini library at home.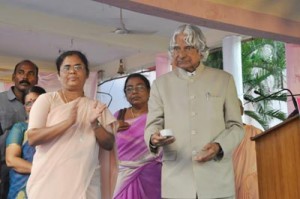 He then presented some books for the school library.
A few students were allowed to ask question. How should one deal with success and failure, asked one.
"Only through failure would one attain success."
More queries followed but due to lack of time he asked the students to e-mail their questions to apj@abdulkalam.com.
"You will get a reply within 24 hours, he promised and bid goodbye.