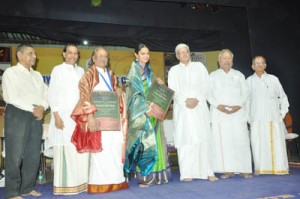 Mylapore Fine Arts Club ( MFAC), a leading sabha in the area launched its December season festival of music and dance on Sunday evening.
Starting with the short flag hoisting ceremony in the presence of chief  guest Gopalkrishna Gandhi, Chairman, Kalakshetra Foundation and the sabha managers.
This is one sabha that seems to be the favourite destination for Mylaporeans – the hall was fairly packed as awards were given to music guru T V Gopalakrishnan and dancer Shobana.
The festival will run through this month and a dance festival follows.
The sabha canteen. run by Meenambika Caterers also opened for diners and will be open from Monday from 12noon through into the late evening.
<< Log on to www.kutccheribuzz.com for daily coverage of then 'season'.