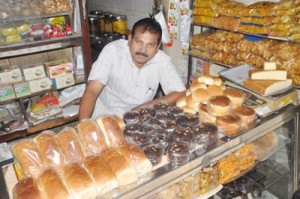 It is that time of the year when rich plum cakes, home made chocolates, cookies, briyanis and roasted turkeys are planned for the season ahead.
The practice of making kul-kuls and baking cakes at home may have faded but there are still people who enjoy the Christmas excitement.
Keeping an eye on the bottles of wine, shopping for dried fruits in George Towne and rounding up willing cousins into the kitchen.
Also, there seems to be a gradual demand for home-made food stuff.
Punitha Coilpillai a resident of CIT Colony has been making the traditional rich plum cake for some years now. "I prepare it the Sri Lankan style," she says.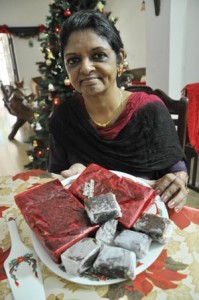 It contains no maida and is extremely rich in flavour, she adds.
The nuts and dry fruits are soaked in rum months ahead and this adds to the flavour of the cake, says Punitha (photo on left).
The rich plum cake if stored properly will have a shelf life of 6 months. There is no need to refrigerate it, she says.
She also undertakes orders. You can buy in one kilo, half a kilo and even small pieces. She can be reached at 98842 41032.
Alex Varghese who manages and runs Varghese Bakery on West Circular Road is also busy making Christmas goodies at his bakery.
The rich plum cake will be on the shelves for sale by Dec.20, he says.
"Here we do it in the style that has been mastered by my dad. It has been my family recipe and it is unique," he says.
The flavour of the cake changes depending on the duration the nuts and dry fruits are soaked in liquor.
"We use nuts and dry fruits that have been soaked for years. This not only increases the shelf life of the cake but also its taste," says Alex.
The rich plum cakes are limited edition and we have already started taking orders for it, he adds.
The cakes will be available in half and one kilos, he says.
This bakery will also sell plum cookies and chocochip cakes for Christmas. At 1, West Circular Road, R. A. Puram. Ph: 2495 7708.
Sukumaran one of the proprietors of The Crown Bakery says that they make standard plum cakes and sponge cakes for Christmas (photo above).
"This is a hit among our customers," he adds. The cake is done the traditional way with dry fruits and nuts. Prices start at Rs.40/200 gms.
This bakery is located at Bazaar Road, Mylapore. Ph: 2467 0872.
San Thomites enjoy preparing for Christmas with goodies for family and guests but those who used to make good wine and cakes are few now. Rani Rodrigues, well known for her homemade chocolates executed her Christmas orders and has gone abroad.
San Thomite Beatrix D' Souza says she has had to contact friends in Anna Nagar to order good homemade wine.
Another San Thomite, Vimala Padmaraj says she has to make rose cookies and murukkus – the Anglo-Indian Christmas specials she learnt from her days in Kolar Gold Fields. Some like her make one trip to George Town, to places like Angappan Naicken Street to source dry fruits and stuff. "It is still the best place to get such stuff."
Chef Joe Lobo of Crust Delicatessen in Abhiramapuram is preparing the tradition plum cake and plum pudding.
The plum cake is done the German way with original fruits and nuts soaked in rum and brandy.
This cake has a shelf life of one year when stored in a cake tin. No refrigeration is required.
The plum pudding is made the English way. It is the traditional recipe that I learnt from my great grand mother, he says.
He is also making Christmas cup cakes – they carry the almond flavour.
None of the items have artificial flavour, colouring and caramel.
Joe is also making pork knuckles, roaster leg of pork and pork chops. These can be ordered and are available only as takeaways.
Crust Delicatessen is at 18, Bheemanna Garden Road, Abhiramapuram. Ph: 2467 0298.
<<  Share your Christmas stories with this newspaper. Call the Edit Team at 2466 0269 >>