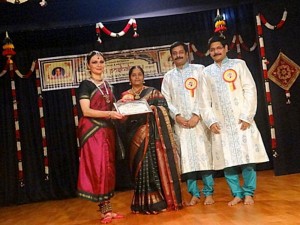 Sri Sumukhi Rajasekharan Memorial Foundation conducted its 7th Visesha Kala Poshakam Utsav, in Mylapore recently, with dance recitals by young talent.
The Naatya Utsav was inaugurated by Dr. C. Vamsadhara, Director of Medical Education, Government of Tamilnadu. N. S. Jayalakshmi, famed dance guru of Kalakshetra, was also a guest.
Dancer Gaana Smirnova from Ukraine performed Bharatanatyam for the finale.
which was very fascinating, enthralling and divine. Her performance was highly appreciated, valued and cherished by the audience. Her abhinaya, bhaava and nritta were very graceful, soulful and divine.
250 children also participated in the Marghazhi  Bala Utsavam hosted by this Foundation which is managed by Amarnath, Surendranath and Aparna