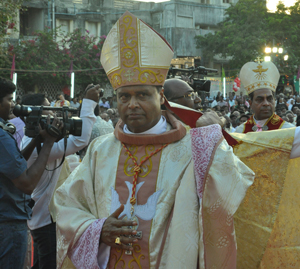 Rev. George Antonysamy was installed as the new Archbishop of Madras-Mylapore diocese at a grand ceremony held at the St. Bede's school ground in San Thome on Sunday evening.
The papal Nuncio, a diplomat based in Delhi did the honors after reading out the order made by the Pope on this appointment.Over 5000 lay people and nuns and priests took part in this unique event. There were also about 20 plus bishops from Tamil Nadu and outside, including reps of the Syro Malankara church.
The event started with a simple procession of the diocese priests and bishops who walked from the St Thomas Cathedral to the venue, a short distance.
The installation ceremony took place first, presented in English and Tamil. Later, a Holy Mass was celebrated. The new Archbishop gave his first sermon, which was simple and straight and spoken in Tamil and English alternatively.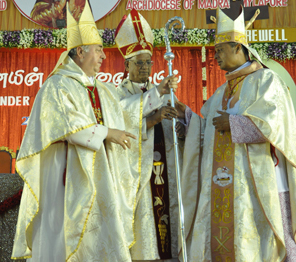 After the Mass, a short cultural programme and a farewell to the outgoing Archbishop, Mosr Rev. Dr A M Chinappa was held on the same stage.
Most Rev. Antonysamy manages a diocese which has over 100 parishes spread across this city and the suburbs too.