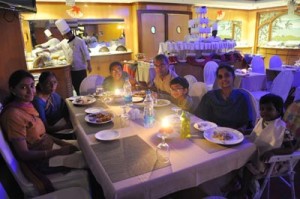 New Year was celebrated in a grand manner in this neighbourhood. People thronged to restaurants, religious and public places.
At Raj Park Hotel in TTK Road. A special veg and non-veg buffet was organised. The restaurant was light up candles and a fruit bouquet was arranged at the entrance (Photo on left).
A special veg. buffet was prepared at Isha Life. Apart from the regular dining area a special dining area was set up outside for those who wanted to have candle light dinner.
Sangeetha Restaurant in South Mada Street had organised pariopoorna saappadu. About 28 dishes were served in that.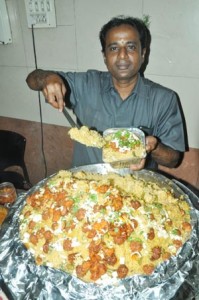 The restaurant also served a special veg. briyani with nuts, vegetables and paneer. This was priced at Rs.150 (photo on left).
This is prepared and served only on New Year's day here, says a staff.
Raja and Ezhil residents of M. K. Amman Koil Street had designed a special kolam with coloured rock salt on the road. The duo has been doing this for the last two years (photo below, left).
The churches were filled with people on New Year eve that had come to attend the night Mass.
Two girls of JJ Road, Alwarpet had designed a large rangoli in front of a house.
Traffic police were post at various spots in the San Thome High Road to regular the traffic and people who had gathered at Marina Beach to celebrate New Year.
Although traffic was diverted from San Thome High Road large number of people managed to make it to the beach.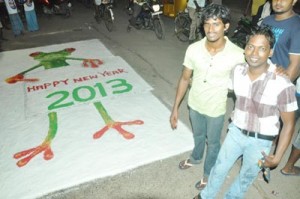 Many families also made it to this destination.
On Jan.1 students of Ramakrishna Mission Home went on a walk on all the four Mada street singing bhajans. This took place at 5.30 a.m.
A little later a similar bhajan walk organised by the Sumuki Foundation was held. Many children dressed in traditional attire participated in it.
Special poojas was organised at all temples during the day.
People waited in long queues at Sri Kapaleeswarar Temple to have a glimpse of the Lord. Special prasadam was distributed here.
Photo captions below – First row – scene at Marina Beach.
Second row (left to right) -Students of Ramakrishna Mission Home, members of Sumuki Foundation.
Third row (left to right) – People waiting in queue at Sri Kapali Temple; People coming out of National Shrine of St. Thomas after the English night Mass.