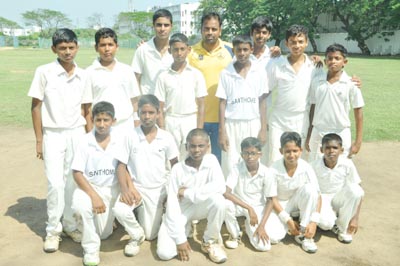 San Thome High School cricket team went home on Friday a dejected lot. It lost to Don Bosco, Egmore in the final of the prestigious annual TNCA cricket tourney for under 14 players.
The team from Egmore were declared winner on the basis of the first innings lead and it lifted the B. Somasundaram trophy.
On Day 1, Don Bosco batted first and piled up a decent score of 186 in the first innings. San Thome's batting was very disappointing. At the end of the day, this team had scored 43 for the loss of 5 wickets.
On Day 2, San Thome was bowled out for 62. Coach Shanmugham's face dropped.
In the second innings, Don Bosco scored 111 for the loss of 7 wickets and declared the innings when play seemed aimless.
The photo is of the San Thome School team.