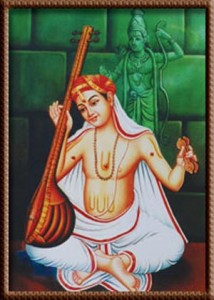 The 166th annual saint Thyagaraja aradhana at Sri Thiagaraja Sangeetha Vidwath Samajam, Mylapore will start on January 30 with a Madurai G S Mani concert in the evening after a formal event.
The big day is on January 31.
On that morning, there will be unchavrithi bhajans at 9.30 a.m. and rendering of the pancharatna kritis of the saint-composer by musicians, from 10 .30 a.m. onwards.
Artistes are free to join this mass singing.
It is on this day that Thyagaraja, one of the great Carnatic music composers is said to have attained samadhi at Thiruvaiyaru, Thanjavur.
In the evening at the Samajam, at 6.15 p.m. vidwan Madurai T N Seshagopalan presents in Harikatha form, 'Sri Thyagaraja Ramayana Pradarshanam'.
He has on stage, V V Ravi on the violin and Dr T K Murthy on the mridangam.
Flutist N. Ramani now heads the Samajam team. The Samajam is near Sri Madhava Perumal Temple, Mylapore. This area and the campus was raised to  celebrate the life and works of this composer and was an idea approved by the Kanchi Mutt's Mahaperiyaval.
Call 98400 64292 for info.