Over 800 people put their hands together to applaud the classical music concert by the Trichur Brothers at Sannidhi Square in Mylapore on Sunday night. It was the finale to the 4 day annual Sundaram Finance Mylapore Festival for 2013 and the music set the mood for a Sunday evening out and on Pongal festival eve.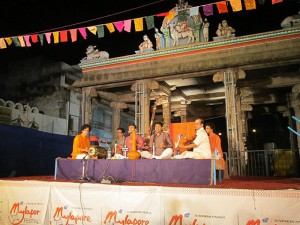 Performing on the main stage with the Sri Kapali Temple gopuram and 16-pillared mantap as backdrop, the concert had a charm and ring of its own, much unlike those held at sabha halls.
And a large spread of visitors to the Fest sat in the open to savour it.
It was a long evening this Sunday – a quiz, a kolam contest in which 102 men  and women took part, shows on the side and inside the temple and the streets around the temple abuzz with activity, sales and offers.
The lit cloth lamps and cloth buntings that lined the Tank Street on the west side of the temple and along the tank created a fairytale like visual spread for those who stopped to look from the other mada veedhis or from the top of Saravana Bhavan restaurant on North Mada Street.
But as is always, the Food Street was jam packed this Sunday, people tucking in whatever they grabbed from the busy counters. And the regular kulfi and sundal hawkers also joined in – adding to the festival mood.
Just the setting to lead to the Pongal festival on Monday.
Go to www.mylaporefestival.com for lots of notes and photos.