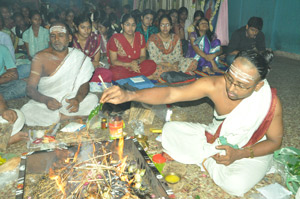 Over 100 students who will sit for the state Board exams in a fortnight from now too part in a Sri Hayagriva Saraswathi homam held for them in Mylapore.
They packed into the P.K. Mahal Kalyanamandam at the far south end of Chitrakulam, a venue for concerts, pujas and social events to seek God's grace.
The events lasted for over an hour, some students were accompanied by their parents.
At the end, prasadam was served and lunch provided. The event was privately organized. Last week, this area was abuzz with the annual teppam of the local Sri Adikesava Perumal Temple.