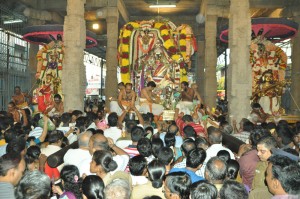 Over 5000 people gathered at Sri Kapali Temple this morning to take part in the adhikara nandi procession as part of the annual Panguni festival being held here.
Though this was a work day morning here, people began to gather since 5.30 a.m. even as the gods were carried out of the temple and placed in the 16-pillared mantap in the Sannidhi Square on the eastern side of the temple.
The procession will slowly wind its way through all the mada veedhis through the day. Also celebrated today was a tribute to saint Thiru Gnanasambandar.
<< A Blog on this fest is fed with notes and photos daily. Do take a look  – www.mylaporepangunifest.blogspot.in