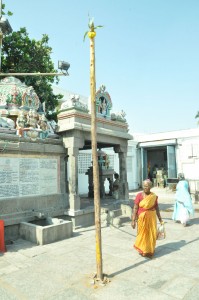 The annual Panguni Festival at Sri Kapali Temple, Mylapore will start on March 18 with the flag hoisting ceremony and will go on till March 27 when the Thirukalyanam.
The ther is on March 24 and the grand arbathumoovar procession is on March 25 afternoon.
On March 1 morning the panda-kal ritual got underway – a simple ritual that precedes start of work for the vizha in keeping with tradition.
On March 3, devotees will carry 1008 milk pots from Sri Kapali Temple to the Kolavizhiamman Temple on the other side of the road, the grama-devathai and offer abhishekam there at about 9 a.m.