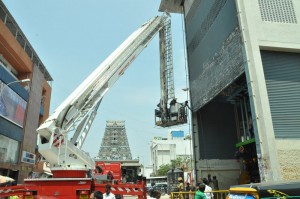 Managers of Sri Kapali Temple, Mylapore were in a quandary this morning when the main shutter of the shed which houses the chariot ( ther) could not be rolled down. So the help of the city Fire Services had to be sought.
The shutters had been pushed up to use the ther for the recent brahmotsavam and the ther had been parked here after the procession two Sunday's ago.
But when the temple volunteers were at work to close the shed, the main one got stuck. Since it is at a great height, and there was no way in which workers could climb up, the special ladder atop a special Fire Engine van stationed at Egmore was called for and the problem set right.