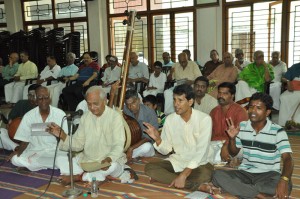 Senior musicians, music students and rasikas joined hands to take part in the gosti singing of the pancharatna kritis of composer Thyagaraja at an event held on March 31 at the Srigeri Mutt premises in R A Puram.
The event was hosted by Raja Annamalaipuram Baktha Jana Sabha.
Lunch was provided to over 200 guests, sponsored by the USA-based  Rupa Balakrishnan. The Balakrishnans have been doing this every year.