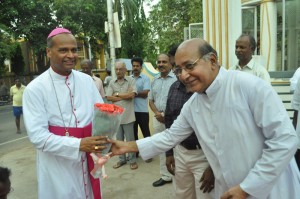 Archbishop Rev. Dr. Antonyswamy of the Madras-Mylapore diocese handed over scholarships to the tune of RS.1.75 lakh to toppers in state exams and other students from the community at Our Lady of Visitation Church, Abhiramapuram on May 26.
The Archbishop took part in the Holy Mass at which First Holy Communion service was included and this was held prior to the scholarships event.
Fr. Thomas Simon, parish priest and teenagers of this community formally welcomed the recently-appointed Archbishop to the church campus.