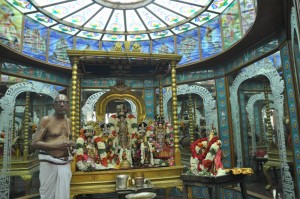 The mahasamprokshanam (Kumbabishekam)  of Sri Thirumylai Thiru Venkatamodaiyan at Sri Vedantha Desikar Devasthanam in Mylapore wil take place from 8.45 a.m. here.
It will be held in the presence of the 45th and 46th Azhagiyasingars of Sri Ahobila Math and Srirangam Srimad Andavan Swamigal.
Religious ceremonies have been on since on from April 28.
On May 2, Kalyana Utsavam will take place by 3 p.m. followed by a grand procession around 6.30 p.m.
A huge amount of civil and other work has been going on inside here – a small mantapam, kannadi arai ( mirrors-lined sanctums), renovation of pillars and more. Even the office has been renovated. All these have been funded by many corporates and individuals.