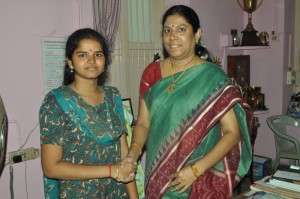 Short notes and snapshots of State Board Plus Two exam results and school toppers in Mylapore campuses –
Lady Sivaswamy Ayyar Girls Hr. Sec School
The school topper here is S. Vijayalakshmi ; she scored 1128 / 1200, Her father, S. Srinivasan is a auto driver and they live at Thiruvalluvar Salai, Teynampet. Family's contact no : 9840419927. ( She is seen in the topmost photo being congratuated by her Head Mistress)
Highest marks scored subject wise here were by the following – Maths – R . Rudhra – 200/200.. Accountancy & Business Maths – L. Kalpana – 200/200
Sir Sivaswami  Kalalaya Higher Secondary School, Mandaveli 
The school has achieved cent percent result this year.
The school topper is J. Mangala Preetha of commerce group with the total of 1184 / 1200.  She is from .Vanniampathy Street, Mandaveli. Family's contact no: 9941468372. The second rank is bagged by R. Swathi with 1178. The third position goes to Sanja Aravindan of computer science group scoring 1175.
There are many centums in various subjects R. Mithunjay has scored centum in Economics, Accountancy and Business Maths.
Rani Meyyammai Girls Hr, Sec School
The school topper is Deepikarani with 1105 marks. She resides at Kutti Gramini St, R.A. Puram. Contact the family at 9444483341, 9790881714.
The highest marks scored subjectiwse here were by the foll.: Business Maths – G. Bhuvaneswari   – 199. Maths – M. Shanmugapriya  – 197. Accountancy – C. Suganya & G. Karpagam  – 199. Commerce – P. Sangeetha  – 198.
Rosary Matric Hr. Sec. School, Mylapore.
The state first (French stream) & school first rank went to S Kaavya – 1192 / 1200. Her scores – French-198, English -194 , Economics – 200, Commerce – 200, Accountancy – 200, Business Maths – 200
Three students got centums / ranks in subjects.  S. Srinidhi scored 198 marks in Sanskrit and got the first rank.
Kesari School, Mylapore
R Divya was the topper here with 938 marks. She is from the Commerce stream. She scored centums in two practical exams.
Savithriammal Orinetal School, Mylapore
M Maruthi was the topper here with 1154 marks. He got 200 marks in accountancy and 196 marks in commerce.
St Bede's Anglo Indian  H S School, San Thome
Varunlal H Sangvi stood first in the school with 1164 marks, scoring centums in accountancy and business math. Aarif Mohamed K. H. stood second and V Danush Kumar stood third.
Rajah Muthiah H S School, R A Puram
The topper here was S Vijay with 1061 marks.  K Vinoth Kumar stood second and K Sridhar stood third. Vinay resides in Govindaswamy Nagar, R A Puram.
The school, in R A Puram had a 64% pass percentage.
P. S. H S (Main) School, Mylapore
K Seshadri stood first here, scoring 1145 marks with a centum in accountancy. He stood first here in the State Std.10 exam. He lives in Kesavaperumalpuram.
St. Anthony's Girls H S School, P A Puram
U Bhavani from New Street, Mylapore scored 1176 marks and stood first. She hails from a poor family.
All the girls here who appeared for the Plus Two exam passed.
St. Raphael's Girls H S School, San Thome
Muni Venkatasai Vaishnavi S. stood first here with 1154 marks. She lives in Syed Ahmed Hussain Street, Mylapore.
The school had a 97% pass record this time.
Sri Rajalakshmi Matric  H S School
R Janani stood first here with 1129 marks and she resides at KVB Garden, R A Puram. The school is on 5th Trust Cross, Mandavelipakkam.
Sri Venugopal Vidyalaya Matric  H S School
Sri Janani Meenakshi S. stood first 1172 marks with French as her language option. She resides on R K Mutt Road.
Children's Garden H S School
S Hemalatha stood first here with 1150 marks in the commerce stream. She got centums in commerce, economics and accountancy. The school had a 98% pass result.
Chennai Higher Sec. School, Alwarpet
At this school of Chennai Corporation on Bheemana Garden Street, the topper was Velayuthan M. He scored a centum in accountancy and scored 1120 marks.
CSI St Ebba's Girls H S School
The topper here was S Padmavathy who scored 1116 marks. The pass percentage was 99%. M. Manjula got a centum in economics.
P S Matric H S School, Mylapore
V Amudhanila was the school topper with 1148 marks. She scored centums in commerce, accountancy and economics.
San Thome H S School, San Thome
M S R Roshan stood first here with 1172 marks. He scored 199 in biology.
CSI School for the Deaf, San Thome
The topper was Hanson Shaji with 679/1000 marks.