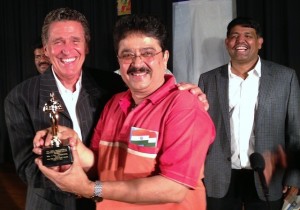 Actor S Ve Shekher was recently honored in the USA where he is on a tour.
He was honored byTADDV of Philadelphia for completing 5800 stage drama shows and for his community and social activities which include promotion of eye and blood donation, arranging for burial of unclaimed dead, caring for seniors at old age homes and such other projects.
The gentleman presenting the award to S Ve Shekher is Julian Krinsky, the founder of Julian Krinsky School of Tennis which was founded by Julian Krinsky, formerly a player on the international tennis circuit who competed at Wimbledon and the French Open.
He has been supporting Tamil Association of Greater Delaware Valley in Philadelphia
Shekher is available in 408-637-9270 in the USA.