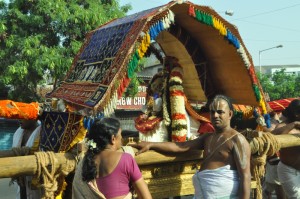 A procession of Nachiyar Thirukolam on R. K. Mutt Road on May 17 morning as part of the brahmotsavam at Sri Vendanta Desikar Temple, Mylapore.
On this occasion, Sri Srinivasa Perumal takes on the mohana avataram.
A devotee donated a 'jadai' which was silver with gold plating and stones and this was adorned on the swami for the procession.
The brahmotsavam is on till May 22. The ther is on May 19 at about 7.30 a.m.