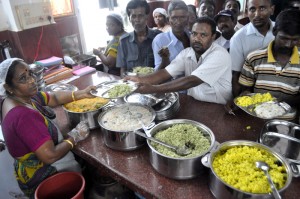 The lines outside the Amma Unavagams, the state-backed eating houses that offer simple food for low prices are getting bigger.
On Sunday, the menu here was increased. Pongal for breakfast and karavepilla ( curry leaves) rice at lunch time. The expanded menu was formally launched by the chief minister Jayalalithaa at the Secretariat via video conferencing and included in the launch function coverage was the unavagam on San Thome High Road near the Registration Office.
The eat out was decorated for the occasion on Sunday and Monday onwards, the crowds increased its patronage.
The one-rupee idlis continue to be the hot sellers at the unavagams. The photo here was taken at lunch time at the San Thome unavagam