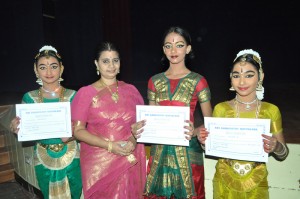 Dancers from 13 city schools took part in a Bharatanatyam competition hosted by Sir Sivaswami Kalalaya, Mylapore. This is an annual event and it was held at the R K Swamy Auditorium on the school campus.
Only solo dances were permitted; each dancer given about 7 minutes on stage.
The contest ran for about two hours and three best dancers were chosen by the judges for awards presented at noontime. Shanthi Sriram was the judge. Balasubramaniam and Shankari have instituted an endowment for this event and the school runs the show.
The school just celebrated its silver jubilee. Its inter-school cultural fest begins today.