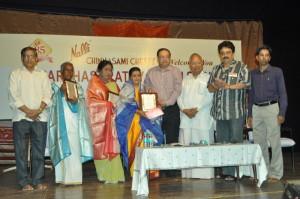 The annual Tamil drama fest of Sri Parthasarathy Swami Sabha  opened on June 16 evening Narada Gana Sabha hall, Alwarpet.
On the opening evening, the  Nalli Lifetime awards were presented to  3 renowned Tamil stage artistes. Veteran Tamil playwright and  actor K. P. Arivanandam, stage artistes Vandhana and Brinda for their contribution to Tamil theatre.
Mohan Parasaran, Solicitor General of India inaugurated the festival in the presence of Nalli Kuppuswami Chetti and actor S V Shekher.
The plays are on daily till June 24 and some seats are open as free admission.