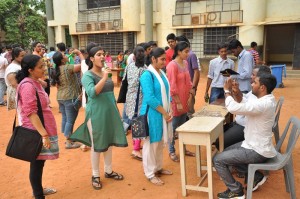 On 14 June, 2013, Vidya Mandir held its annual prize distribution function. Prof. Bhaskar Ramamurthi, Director, IIT Madras, the chief guest, distributed the prizes to rank holders from Vidya Mandir in the recent AISSE exams and other academic achievers during 2012-13.
The morning's function was followed by the 'Alumni Induction Programme" in the evening. This is an annual event during which the students passing out of school are automatically inducted into The Vidya Mandir Alumni Association (VMAA).
Bhavani Raghunandan, Principal of Vidya Mandir, welcomed the students, staff and alumni. She spoke about the new initiative from the sSchool to connect with the alumni – the formation of an "Office of Alumni Affairs" – to provide a strong link between the School and its alumni. She highlighted the contribution made by the students of the 1987 batch, who have generously contributed the funds and installed a solar power system at the school.
M. Kannuswamy, an alumnus from the 1969 batch, President of the Vidya Mandir Alumni Association, gave an account of the activities of the Alumni Association and requested the outgoing students to take guidance from the past Alumni members, who happen to occupy important positions in various industries, such as, Medicine, Bio-Technology, Information Technology, Commerce, Music, etc.
He mentioned that, as a fitting and appropriate recognition of the services rendered by the teachers, VMAA has sponsored and introduced a first-of-its-kind Group Medical Insurance Policy for the teachers (past and present) and employees of the school.
J. Krishnan, another alumnus from the 1969 batch, spoke of the introduction of the Alumni Portal, which would be launched shortly . The portal will contain all the current social media functionalities and would allow all the alumni around the world to contribute content, share photos and videos, connect with their classmates, schoolmates and teachers, and create an active and vibrant community of alumni & teachers.
In a yet another technology initiative, a mobile application has been launched for alumni to register online. This pioneering effort has been designed by LatticeBridge Infotech Pvt. Limited (LBIT), who ensured that this application was developed in record time to be ready for launch during the Alumni induction function.
– Information provided by M. Kannuswamy.