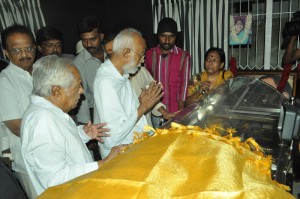 Writer, poet and lyricist Vaali passed away this evening at a city hospital where he battled illness for almost a month. He was 82.
He resided in Karpagam Avenue 1st Street in R. A. Puram.
Vaali's life is a story that even the films for which he wrote music for have not touched. A rags to fame story is what his life came to be, being as well known as the great Kannadasan who was the king of songs in his time in Tamil cinema.
Born S Rangarajan near Tiruchi, he created Tamil plays to drive his passion and went on to write lyrics. He came to Chennai to seek openings in films, saw through torrid days and slowly clawed his way in with his wonderful songs.
In time, he was writing songs for all types of heroes and did so till the other day in a career that spanned over five decades.
He was also a steady writer and has written many books, including some on religion.
He is survived by his son.
The funeral is at 3 p.m. on Friday. Since this morning there was a stream of people who came by to pay their respects, mostly from the film world. Photo here shows well-known music directors M S Vishvanathan and Ramamurthy.