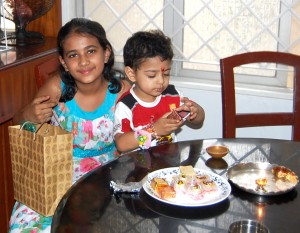 Raksha Bandhan celebrations at Aashiana Apartments in Alwarpet by brother-sister duo Vidhi and Abhinandan Lodha ( seen in the photo) kicked off on the evening of August 21.
This Marwadi family celebrates Rakshabandhan every year without fail. 
Vidhi placed a 'tikka' on her younger brother Abhi's forehead after wetting 'kumkum' with a little water added to a few grains of rice.
She tied a colourful, decorated rakhi on his right hand and two more on behalf of his cousin sisters from Bangalore. An 'aarti' was performed and sweets popped into each other's mouth signifying completion of the ritual. Abhi handed over a bagful of presents to his sister and she was all smiles to see her favourite gifts of books while Abhi was happy with the sweets!
Two other Marwadi families also celebrated the festival with great gusto. The Dagas of R.A. Puram had an all-girls 'rakhi party' as their cousin brothers are in different cities.
They performed the ritual and tied rakhis to one another signifying their love and bonding. The Jhavers of Abhiramapuram say they have been celebrating the festival for the past 30 years. It is a grand gathering of the large extended family. The rituals were followed by a feast.