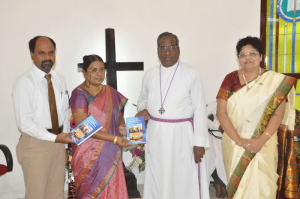 Two new blocks for academic study and practical training were opened on September 14 on the campus of the famed CSI Kalyani Multi-Speciality Hospital on Dr. Radhakrishnan Road, Mylapore.
The Bishop of the CSI, Rev. Dr Devasahayam was the main guest and he blessed the blocks and also the rebuilt chapel – the chapel has been part of this legendary hospital for over a century.
The new blocks will house the CSI Kalyani College of Nursing's classrooms and labs and one block will serve the needs of students and faculty of the recently started CSI Kalyani College for Allied Health Sciences.
The latter offers a host of diploma and degree courses related to the field of medicine and are run under the umbrella of Dr MGR Medical University.
Dr Rajkumari Sunder is the Medical Director here.