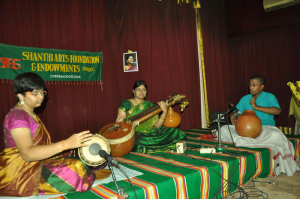 Shanthi Arts Foundation and Endowments (SAFE) is organising its annual youth music festival at Mylapore from September 27 and October 4.
Vocal concerts by 16 talented young musicians and a few wellknown artistes will perform. Concerts are at 4.30 p.m. and 6.30 p.m.
The festival is dedicated to late Ranjani Hebbar, a talented young Carnatic music vocalist who passed away recently.
Founder of 'SAFE' P. Ramabhadran describes her as a pleasing youngster with a golden voice filled with divine music.
All are welcome to attend the eoncerts. At Ragasudha Hall, Luz. Contact 24935014 for more details.
Photo features the first concert – S. Anjani on the veena – on the opening evening of this fest.