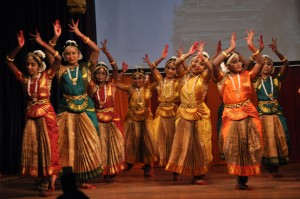 On Wednesday evening, Oct.2 the stage at the T. N. Rajaratnam Pillai Auditorium in R. A. Puram was exclusively for all the children and teenagers who learn classical music and dance at an academy run by dancer-actor Swarnamalya Ganesh.
The occasion was the academy's eighth anniversary. Ranga Mandira is based in Mandaveli and for this occasion, Swarnamalya carefully trained her senior wards to present to the guests select dance items from the works of the Tanjore Quarttete.
The children also sang on this occasion – indicating to the guests that they are taught music and dance at Ranga Mandira.
In the lobby of the auditorium, a few projects of models, charts and pictures were displayed. These were the outcome of the learning process at the academy.