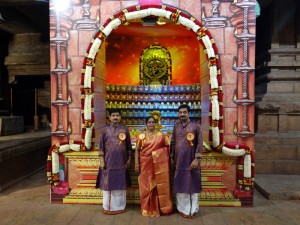 The Mylapore Trio, as Amarnath, Surendranath and Aparna – brothers and sister – call themselves are just back from an eventful Navarathri in Madurai.
The trio are happy because they conceptualized, created and executed a grand thematic golu for the third consecutive year in the Madurai Meenakshi Amman Temple.
They were invited by the temple authorities to put up this thematic golu. The planning and preparations took 4 month, said Amarnath, a professor of history.
The kolu consisted of 24 bays explaining the concept "Sarvam Bhakthimayam" in the kolu durbar of goddess Meenakshi and was witnessed literally by lakhs of people, said Surendranath.
Earlier in 2009 and 2010 they had put up thematic golus in Sri Kapali Temple, Mylapore and Sri Parthasarathy Temple, Triplicane.