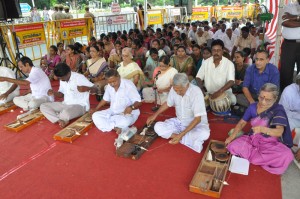 There was a steady stream of people at the statue of Mahatma Gandhi on Marina Beach in Mylapore well before the sun came up as they milled around to pay their respects here on the occasion of the birth anniversary of the Mahatma observed today ( Oct. 2).
The beachside is a favorite destination for walkers and fitness enthusiasts who hit the beach sands or its promenade as early as 4 a.m.
While the state governor and chief minister were expected to be here at about 10 a.m. small groups of people got together and sang songs and bhajans. A few even worked on the charka.
Many others posed for pictures in front of the statue.
This year, the High Court has asked the state to make arrangements for people to pay their respects without affecting them with the dense security that is put in place for VIP visitors.
A senior advocate took this issue to court and sought relief because in the past, people had to stay on for long before they could pay their respects here because of the extensive security.