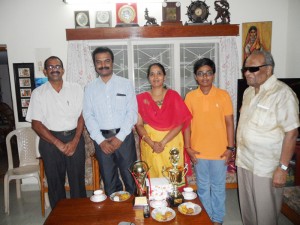 . Mahadevan, a leading lawyer has been elevated as a Judge of Madras High Court.
He is a resident of Luz Avenue.
The local community here was quick to congratulate him.
They held an informal felicitation for Justice R. Mahadevan on Sunday, November 3, 2013 at the residence of K. V. Mathew's residence, the founder-president of Luz Avenue Residents'  Welfare Association.
R. Mahadevan was born in1963 at Chennai. His early schooling was at Nehru Government Higher Secondary School, Nanganallur.
He graduated from A. M. Jain College, Meenambakkam. Attracted towards literature early in life,  he actively participated in literary meetings during his school days and won several accolades.
He was the Vice-chairman of the A. M. Jain College Students Union.
He says this was the only period when the campus did not witness a students' strike.
He completed law degree at Madras Law College and enrolled in 1989. He practiced in civil, criminal and writ sides with specialisation in Indirect Taxes and Customs and Central Excise matters.
He served as an Additional Government Pleader (Taxes) for the Tamil Nadu government and as Additional Central Government Standing Counsel and Senior Panel Counsel for the Government of India at Madras High Court.
He has conducted more than 9000 cases out of which hundreds of cases have been reported in law journals.
He is also a well known personality in the literary field. His father Ma. Ranganathan is a renowned Tamil writer while his mother Krishnammal is a housewife.
He is married to C. Pushpavathi who is an engineering graduate and the couple have a son, Siva Mahadevan who attends school.
– Reported by S. Venkata Ramani