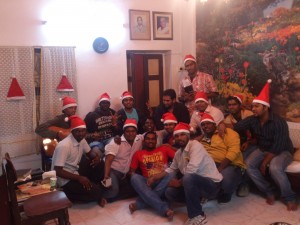 Around 20 members from CSI Wesley Church at Royapettah meet up and go carol singing for friends and co-members of the church as well as for non-Christian friends. They walk through Mylapore and Santhome every Christmas and give specialized gifts every year.
This year they are distributing a key chain and a Bible verse along with some chocolates. Jonathan Immanuel who sent us this photograph says the highlight of their service is that they do not accept any offerings from the houses they visit.
They visit an orphanage every year in December and this year they chose Meston Residential School for Special Children in Muttukadu. Rations that would run for 3-4 months were given to them along with a special Biryani lunch. The group also entertained the kids by singing songs and performing a puppet show.
Merry Christmas, Happy Holidays and Season's Greetings to all readers of Mylapore Times!