ISKCON organised its 31st annual Sri Jagannath Rath Yatra from Sannidhi Square, in front of Sri Kapaleeswarar Koil on Monday afternoon.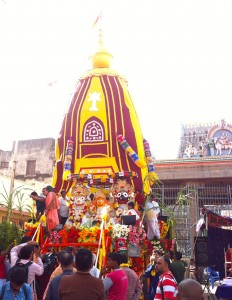 The deities depicting Balaram, Subhadra and lord Krishna were colourfully decked and the rath, which has wheel of a lorry, was bedecked with fresh flowers. Multicoloured rangolis and kolams were drawn at the venue and varieties of prasad like sundal, kesari, laddoo, pongal and mixed rice were distributed to all present.
The yatra's journey traversed the route from Mylapore to Chetpet. The inauguration was done by Mayor Duraisamy. There was an autocar that carried a statue of guru Swami Prabhupad inside and a baby Krishna atop the car.