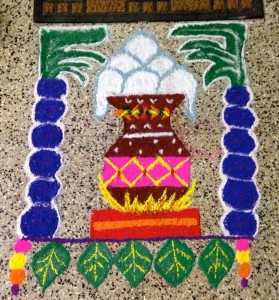 Vandana Ramakrishnan residing at Alwarpet celebrates festivals in a traditional manner and her family of four including two children join her in the preparations and ceremonies.
She decorated the entrance of her house with a colourful kolam depicting the pongal paanai pot.
The delicacies she prepared were variety rice, vadais and the master of ceremonies – chakkara or sweet pongal.
On the auspicious occassion, the food (neiveidhyam) is first offered to God and then to guests and family members.