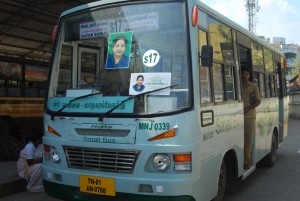 The mini bus launched for this area has begun plying on the Mandaveli to Adyar route since Friday.
S17 is the route and its starts from the MTC terminus in Mandaveli and covers the Malar Hospital, Cancer Institute, Kotturpuram, Greenways Road and R. K. Mutt Road.
MTC staff at the terminus said that they plan 22 services but the exact stops and touch points have not yet been decided on.
So not many people hopped into the bus en route on Friday morning and it will take some time to gain in demand.
The earlier mini buses in suburbs stop at points where people wave them down.
The Mandaveli to Adyar run will cost Rs.9 for a commuter.