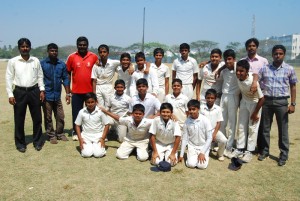 A celebration broke out at the P. S. School campus on Friday evening as the P. S. Senior's under-14 cricket team rose as one man to hold up the trophy for winning the P. C. Sekar Memorial tourney, a sport event which celebrates the late founder of the P. S. Senior school.
The victors won a hardfought and exciting final, beating Don Bosco in a match played that morning on the St. Bede's ground in San Thome.
P. S. Senior batted first and scored 137 runs in 28.5 overs: the team was bowled out. In reply, Don Bosco almost made it but lost many men due to runs outs. It could make 120 runs and were bowled out in the final over.
In the end, a plucky 46 runs by R. Keshav built P. S. Senior's score.
Coach Vinnarasan said the game was tight but was happy the boys payed well to the end.
The team – Abhijeet Venkatesh ( captain), Abhishek Venkatesh, R. Keshav, K. A. Ajit, Anirudh Seshadri, V. Krishna, Pravbhav Bose, S. Karthik (wicketkeeper), S Sai Krishna, Mughil Vanchinath, V. Nikhil, Naveen Anantharaman, Asish Bose, Aashitosh, Mithun Krishna and Aditya Narayananan ( wicketkeeper).
The team's Keshav and Abhishek were given best player and best batsman prizes.
<< SHARE SPORTS NEWS with this newspaper. The buzz gets posted on Mylapore Times' Facebook page >>