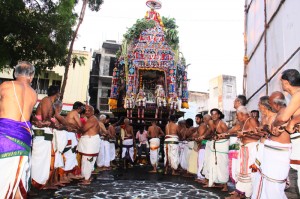 The grand ther ( chariot) procession at Sri Adi Kesava Perumal Temple at Mylapore began this morning as part of the Brahmotsavam that has been celebrated here from Mar 17 and ends on 27.
Though it was the first working day of the week a sizable community of devotees gathered at the temple, which is on the south side of the Chitrakulam for the rituals leading to the procession.
The ther will roll down the mada veedhis, covering first South Mada Street.
The festival will end with a veedhi perapadu on Mar 27.
This will be followed by a musical concert on Mar 28 and 29.
Ph:24643873 for details at the temple office.