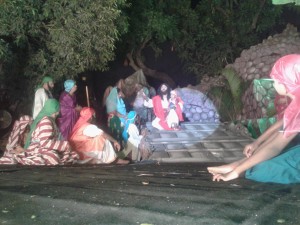 In the campus of Our Lady of Guidance Church on Lazarus Church Road on Saturday evening over 700 people watched a two-hour long Passion sound and light show put up by a group from its own congregation here.
The show, which dramatized key events that lead to Jesus' condemnation and death on a cross was a home production. Volunteers and workmen used simple materials to create sets on one side of the church campus, making good use of a stage, trees and platforms here.
The show may have had its hiccups but it kept the large audience, mostly church goers glued to the action.
Groups here have been using creative ways at festival time like Christmas and Easter to animate what is celebrated in the church.