Frangipani Culinary Expressions is hosting a chocolate making class on May 22 and 23. Around 40 varieties of chocolates with packing right from basics will be taught in this hands-on course and participants can take home the creations they make.
From 11 am to 2 pm, fees Rs. 3000. Near Park Sheraton Hotel. Ph: 9962048088.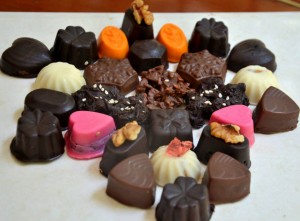 The varieties of chocolates are Plain Chocolate, Butterscotch, Tutti Fruitti, Black Currant, Marble, Almond Rocks, Milk Chocolate Pakoda, Mediterranean Chocolate, Florentine, Lemon Pepper, Biscuits, Nutria Balls, Low fat Truffles, Rum Balls, Ganache Bon Bon, Salted Caramel milk, Caramel mousse, Caramel coat nuts, Java dark, Orange & Cointreau, Classic Belgian Truffle, Fudge, Fresh Strawberry Milk, Strawberry Dipped Chocolate, Ressee Peanut butter cups, Ginger Chocolate, Mango & Vanilla, Orange segment, White & Blackberry, Twin Towers, Caramalized Coconut, Mint, Chilli chocolate, American dream, Chai Tea, Nut paradise, Peanut cluster dark, Honey chocolate, Dark Pistachio, Cinnamon, Liquor Chocolate and more.