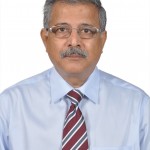 B. Ramani, son of late R. Balagangadharan passed away on June 26, 2014. He was a resident of Mandavelipakkam and a partner of D. Rangaswamy & Co., one of the oldest and well-known chartered accountant firms in Chennai along with his father. Both were pioneers in bank audits and corporate audits besides corporate taxation.
He was an active member in various social clubs. A good sportsman, he played cricket, tennis and snooker. Very friendly and amiable, he was popular among his big circle of friends both in and outside his profession. People knew him to be a systematic and meticulous person who sought perfection in everything he did.
He is survived by his wife Vijayalakshmi, two daughters and a son. His family can be contacted at 2/6, First Trust Main Road, Mandavelipakkam. Ph: 24953328.
– Sent in by daughter Pavithra.