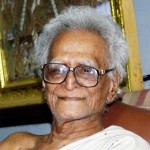 S. Viswanathan, aged 96, son of Palathope M. Subbaraya Aiyar (advocate and philanthropist) passed away on June 8, 2014. He had lived all his life in Mylapore and had a peaceful end, with fond memories of old times and old timers. A student of Sri Ramakrishna Mission Students' Home and P. S. High School, he specialized in radio engineering. After a radio business in Coimbatore in the early 1940s, he took on the management of Vanjinad Matches Limited, Alwaye, a pioneering Indian industry during pre and post Independence. He was in construction for a decade in Madras during the C.I.T days of city building. His next landing stage was the Madras Swadeshi Emporium Private Ltd., a retail textile outlet on Mount Road.
Inspired by the Swadeshi Movement and Gandhiji, his professional and personal life was guided by Gandhian principles. He led a spartan life, independent till his last days. He cherished the memories of Rajaji, Sir Alladi Krishnaswami Aiyar, C. P. Ramaswami Aiyar, Ramaswamy Aiyangar, Ramanujachariar among others. He had great respect for the last mentioned two savants who were closely associated with Shri Ramakrishna Students' Home. He admired them and tried to live a life as set by the lives that they had led, preferring to go incognito. Kind and gentle by nature, he gave his best for anybody that sought his help and any task that he undertook, never seeking publicity for it. He was a treasure trove of knowledge about old times and old timers of Mylapore and could narrate a story with relish and humour.
He loved animals and was passionate about old cars, which drove him to the spare parts shops in bylanes of the old city. He loved to fabricate parts that were not readily available and run condemned old cars. He inspired mechanics, friends, relatives and his nephew who is now an antique car collector. He delighted in putting together hopeless gadgets and making them work. Many professionals sought his advice for mechanical nuances. His creative ideas gave simple but well thought out devices for the house. He loved children and was proactive with ideas of women's emancipation. A follower of Shri Ramana Maharishi, he invoked his blessing during his last few minutes.
He leaves behind his daughters and their families and a host of friends and relatives to mourn his loss. The family can be contacted on 9884042885 / 24959403.
– Sent in by Shobhana Ramkumar