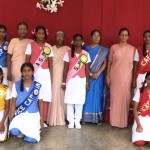 It was a morning dedicated to the Investiture Event at St. Raphaels School for Girls in San Thome. The student community gathered to witness the oath taking by the student leaders. M.Bhuvaneswari is the new Student Pupil Leader and her assistant is Fathima.
House captains were also sworn in in the presence of the school Correspondent, teachers and staff. While the students dispersed after the function held on June 2 the students leaders had a briefing.
This school is run by the FMM congregation nuns and is on Kutchery Road.