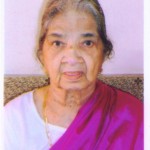 S. Komalam aged 92 years passed away peacefully at her residence on July 1, 2014. A resident of Mylapore for over four decades, she was known for her warmth and smile against all odds.
Having lost her husband at age 22, she raised her children on her own. From her early days in Villupuram till her last days in Mylapore, she was always looking for ways to help others and be of service to humanity at large. She was soft-spoken, gentle, and simple. She never let the burdens of life hold her back. Her life has been an inspiration for her near and dear ones.
She is survived by her son and three daughters. They can be contacted at 13, Bangarummal Street, Mylapore. Ph: 24990342 / 24661907 / 9176150586.