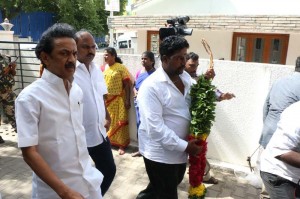 The son of wellknown film director K. Balachander, Bala Kailasam passed away on Friday in a  private hospital. He was being treated for a lung infection. Since early this morning, a string of people from the world of cinema, politics, theatre and entertainment were seen walking down Warren Road where the Balachander family resides to offer their condolences.
Among them was DMK leader M. K. Stalin. Police took charge at this place to regulate traffic.
Kailasam studied film making in the USA and set up a production house here called Minbimbangal which produced a host of TV serials and other shows.
He heaves behind his wife Geetha and two children. Balachander has been one of the early residents of Warren Road, now called Bhaktavatsalam Road.