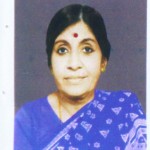 Dr. P. Lakshmi (aged 90 years) passed away July 8, 2014. She was the daughter of late Rao Bahadur Dr. S. Padmanabha Sharma, a well-known surgeon of yesteryears, and the younger sister of late P. Sitaraman, retired deputy secretary of the government of India. She retired as the deputy director of health with the Tamil Nadu government.
An alumnus of Madras Medical College she passed M. B. B. S. with flying colors, winning a gold medal, and obtained several diplomas as well. After joining government service in 1956, she was sent abroad several times to the UK, Yugoslavia and Switzerland, under the aegis of the W. H. O., as well as a few Asian countries. When the family welfare department was created, she was the first to be appointed as assistant director. She engaged in private practice after retirement. Many leading personalities who became her patients, acclaimed her prowess as a doctor. She offered free service to slum dwellers.
Caring and affectionate, she never bore a grudge against anyone. A lover of Carnatic music, she learnt to play the veena in her youth. Dutiful and humane, she is deeply mourned by husband S. Shankar and daughter R. Alamelu, relatives and friends.
Her family is based in Mandaveli and can be contacted at 24952626 / 24641696.
– Sent in by niece S. Shyamala.